THE BOMA 360 PERFORMANCE PROGRAM + THE TOBY AWARDS
Now together in one streamlined application portal, the BOMA 360 Performance Program and the TOBY Awards are just what you need to take your building to the next level. Complete one or both!
---

What are the TOBY Awards?
The Outstanding Building of the Year (TOBY®) Awards is the most prestigious and comprehensive program of its kind in the commercial real estate industry recognizing quality in commercial buildings and rewarding excellence in building management. During the competition, all facets of a building's operations are thoroughly evaluated. Buildings are judged on everything from community involvement, tenant relations and site management to environmental and "green" policies and procedures. The competition consists of three levels and begins at the BOMA local association level. Winning entries advance from there to the regional level and, finally, regional winners advance to the BOMA International level.
LOCAL COMPETITION: Typical schedule for the program is application are due by June 30th, judging takes place in September/October and winners are announced and celebrated in December at our Annual BOMA Columbus Awards Banquet and TOBY Gala. The local competition includes a short power point presentation, show & tell of a few documents, and an in-person building tour completed by a judging panel of your peers (typically comprised of 3 building managers and 2 vendor partners). A judging score sheet is provided so you know exactly what to review and show your judges on the day of your building tour. **Note: Binders, write ups, and BOMA 360 Certifications are NOT required for the local competition.

REGIONAL COMPETITION: Winners of our local TOBY Columbus chapter competition have the option to take their building(s) to the next level in the competition and choose to compete Regionally. Columbus is located in the "North Central Region", which is comprised of Illinois, Michigan, Indiana, Ohio and Kentucky. To enter the regional competition, a very detailed overview of the building must be submitted electronically via BOMA International's website. No in-person building tours are required. This level of the competition is performed only via written documentation write ups, document submittals, and select photos outlined in your submittal package. A BOMA 360 Certification is required to compete at the Regional & International levels. Deadline to submit your regional application is typically the first week of March. Regional winners are announced in April and go on to compete in the international competition.
INTERNATIONAL COMPETITION: The BOMA International TOBY Awards are given annually at the BOMA International summer conference in June. This location changes every year. Winners from the Regional competition are automatically bumped forward in the system. No additional work required. A new panel of International judges will review your submission and score you against others in your category.
Buildings May Enter in the Following Categories:
Under 100, 000 Square Feet
100,000 - 249,999 Square Feet
250,000 - 499,999 Square Feet
500,000 - 1 Million Square Feet
Over 1 Million Square Feet
Renovated Building
Historical Building
Corporate Facility
Public Assembly (Government Buildings, Arenas and other public space)
Medical Office Building
Life Science Building (Labs)
Suburban Office Park - Mid- Rise (1-5 stories)
Suburban Office Park - Mid- Rise (6-10 stories)
Industrial Office Park
Enclosed Mall (Under 1 million SF)
Enclosed Mall (Over 1 million SF)
Open Air / Strip Mall
Mixed Use
Earth
Retail
To access a description of each category and for general guideline rules, please see https://recognition.boma.org/.
Eligibility Requirements:
Log into the online portal at https://recognition.boma.org/, refer to Requirements and Forms and select the TOBY Entry Requirements for the category in which you are interested in competing. All buildings must have at least 50% of a building's space used as office space with the exception of Industrial and Mixed-Use. Buildings submitted in the Industrial category must have more than 5% and less than 50% office area as measured by the BOMA Standards. Buildings submitted in the Mixed-Use category must have at least 10% office space. The building must be occupied for at least one full year from the date of occupancy of the first tenant by June 15 of the TOBY competition year with a minimum of 12 months of building operations.
---
Important Dates & Deadlines:
LOCAL COMPETITION:
June 30 - Local TOBY Competition Application Due (online application form coming soon!) *Extended to July 31, 2023
September - Mandatory TOBY Judge Training
September / October - Local TOBY Judging Building Tours Conducted
December - Local TOBY Winners Announced at our Annual BOMA Awards Banquet & TOBY Gala
REGIONAL / INTERNATIONAL COMPETITION:
January 15 - Last day to submit your BOMA 360 Designation Program information into the online portal (required for Regional/International competition only)
1st Week of March - TOBY Regional submittal due through the online BOMA International platform https://recognition.boma.org/
March 31 - Energy Star Data must be shared with BOMA International
April - Regional Winners Announced and are Automatically bumped forward to International Competition
May - International Judging underway
June - International Winners Announced at the Annual BOMA Summer Conference and TOBY Award Banquet dinner (location changes annually)
---
Costs to Participate:
TOBY Awards Competition:
Local: 100%

FREE

- no cost to participate!
Regional:

$450

USD in entry fees will be paid to BOMA International for each submission entering the TOBY regional competition + BOMA 360 fees (see below). These fees will be collected once the entry has been completed and the "Submit" button has been pressed.
International: No additional fees are collected for the international competition.
For more information, please see https://recognition.boma.org/.
---
Why Pursue a TOBY Award?
Retain Tenants - The #1 reason to enter the TOBY contest! Tenants are price conscious and rent is a primary factor when leasing space, but plenty of other issues influence their choice. How they feel about the property - quality and pride of place - counts for a lot. Tenants enjoy being in a building that is recognized as "one of the best." Just going for a TOBY means you're going for the gold - in more ways than one!
Property Recognition - Think your property could be the best in the industry? Get recognized for it! There are a variety of categories from which to choose to enter your property.
Acknowledge Your Team - Pride of ownership and great performance should be recognized. If the management team on a project is the best, then show it! The process of entering builds teamwork and cooperation with service providers and employees who work every day to make a property stand out.
Team Building / Collaboration - The application process itself brings together your diverse property management team in pursuit of a common goal and offers a great opportunity for team building. Because the competition touches upon every aspect of building management and operations, each member of the team becomes an important component and is an integral part to the success of the competition.
Accolades for Owners - Like everyone, owners and property management companies want to feel great about the business they are in. Nothing feels greater than being awarded the best in the business!
Other Benefits:
Prestige and recognition amongst industry peers
Esteem on your resume
Separates your building from others in your market
Staff's heightened pride of ownership
Increased vendor relationships between Property Management staff and Vendors (Engineering, Janitorial, Security, Parking, Elevators, etc.)
Sets management companies apart from competition due to quality and timeliness of operating procedures
Compels staff to uphold higher standards
Assists leasing team in attracting new tenants
Recognition by existing tenants of the behind-the-scenes work they do not normally see
Provides ownership with bragging rights if contemplating a sale or refinance of the property
Paves the way for participation in other recognition opportunities, such as BOMA 360
---
Recognition You Will Receive:
Buildings that achieve a TOBY Award will receive the following:
LOCAL COMPETITION:
Crystal Award to display in your building
Recognition at the Annual BOMA Columbus Awards Banquet & TOBY Gala dinner
Recognition on LinkedIn / Facebook announcements and posts, as well as publication on our BOMA Columbus website
Recognition by your peers in the industry and your colleagues at work
You may use the TOBY logo on your company's or building's Web site and on letterhead, business cards, and marketing and collateral materials.
REGIONAL / INTERNATIONAL COMPETITION:
Opportunity to purchase customized signs and banners
BOMA press release announcing the achievement
Recognition on the BOMA International Web site
Recognition at the BOMA Annual Summer Conference, Winter Business Meeting and other events
You may use the TOBY logo on your company's or building's Web site and on letterhead, business cards, and marketing and collateral materials.
You will also receive a marketing tool kit with ideas and templates for announcing your building's achievement to owners, tenants, and brokers, and for advertising your achievement in the industry and the community.
---
Next Steps for TOBY Regional & International Competition Entrants Only: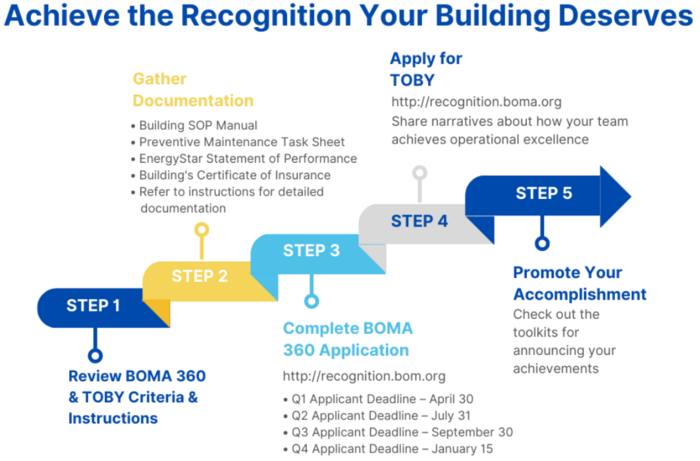 ---

What is BOMA 360?
The BOMA 360 Performance Program sets the standard worldwide for operational best practices in the commercial real estate industry. For building owners and managers who want to help their properties stand out from the crowd, there is no clearer mark of excellence than achieving the BOMA 360 designation.
BOMA 360 is a commercial real estate designation developed by the Building Owners and Managers Association (BOMA) International that recognizes all-around excellence in building operations and management. The program benchmarks building performance in six (6) key areas: operations and management; security and safety; training and education; energy; environment and sustainability; and tenant relations. Since the program's inception in 2009, more than 2,900 BOMA 360 designations have been awarded.
Earning the prestigious BOMA 360 label demonstrates that a building is outperforming the competition across all areas of operations and management. Designees report the program helped them achieve operational efficiencies as well as higher levels of tenant satisfaction.
As the BOMA 360 program continues to expand around the globe, more and more properties are reaping the substantial benefits and significant return on investment that the designation offers, an unmistakable edge in an increasingly competitive marketplace.
This universal recognition program serves as the industry standard for innovative best practices for properties that excel in building management by first applying for a BOMA 360 Designation. The program helps shape high performance buildings by providing an opportunity to educate property management professionals, reinforce team building, and increase asset value and tenant retention.
After receiving a BOMA 360 Designation, it only makes sense to showcase your buildings accomplishments by applying for a TOBY Award too!
Quarterly Submittal Deadlines
Q1 Applicant Deadline – April 30th
Q2 Applicant Deadline – July 31st
Q3 Applicant Deadline – September 30th
Q4 Applicant Deadline – January 15th
How long does it take to complete the BOMA 360 application?
Most applicants complete the BOMA 360 application in a few hours or days if the required documentation is well organized in advance; however, it may take several days or weeks to gather the documentation needed to start the application process if a building doesn't have centralized documentation in place. Best advice: plan ahead, organize your documents, then chip-away a little at a time to complete the application with little stress.
Does the BOMA 360 designation require renewal?
Yes, buildings must re-apply every 3 years to maintain the designation and pay renewal fees in effect at that time. Renewal applications may be started approximately 7 months prior to expiration. We encourage all applicants to save copies of their work on their internal servers for use on future renewals.
For more information, visit https://recognition.boma.org/ or e-mail boma360@boma.org
---
Costs to Participate:
BOMA 360 Designation Program:
Office Buildings:

$850

- Members

$1350

– Non-Members
Industrial Buildings:

$850

- Members

$1350

– Non-Members
** Fees paid every 3 years. Renewal required.
For more information, please see https://recognition.boma.org/.
---
Why Pursue A BOMA 360 Building Designation?
BOMA 360 recipients report that the designation has been a key factor in:
Attracting and competing for tenants
Achieving operational savings and efficiencies
Establishing new operation or management policies or procedures
Gaining recognition from owners, tenants and the community.
Independent studies conducted by Kingsley Associates reports that BOMA 360 buildings earn higher scores in nearly all tenant satisfaction categories. Furthermore, a study conducted by CoStar reports that BOMA 360 buildings have higher tenant retention rates and command higher rental rates than similar buildings without the designation.
Recognition You Will Receive:
Buildings that achieve the BOMA 360 designation will receive the following:
A Plaque to display in the building
Opportunity to purchase customized signs and banners
BOMA press release announcing the achievement
Listing in a BOMA 360 directory on BOMA's Web site
Recognition at the BOMA annual conference, Winter Business Meeting and other events
Opportunity to provide case studies for inclusion in BOMA publications
You may use the BOMA 360 logo on your company's or building's Web site and on letterhead, business cards, and marketing and collateral materials
You will also receive a marketing tool kit with ideas and templates for announcing your building's achievement to owners, tenants, and brokers, and for advertising your achievement in the industry and the community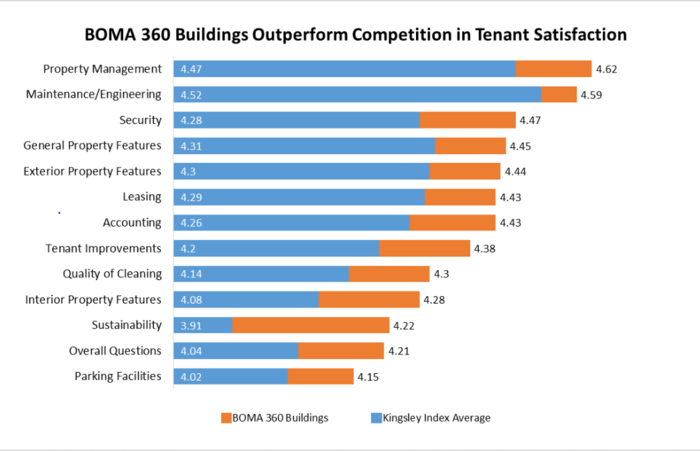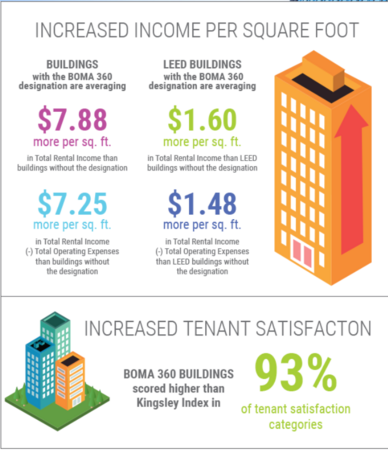 ---
Past TOBY Award Winners
2021/2022 RESULTS
100,000 - 249,999 SF Category: Town Center (Managed by: Newmark Knight Frank

)

Regional winner and International finalist

Renovated Category: 4201 Easton Commons (Managed by: CBRE)
250,000 - 499,999 SF Category: 65 East State Street (Managed by: CBRE)
2018/2019 RESULTS
100,000 - 249,999 SF Category: Town Center (Managed by: Continental Realty)

Regional winner and International finalist
2016/2017 RESULTS
100,000 - 249,999 SF Category: Town Center (Managed by: Continental Realty)

Regional winner and International finalist
2015/2016 RESULTS
100,000 - 249,999 SF Category: Town Center (Managed by: Continental Realty)

Regional winner and International finalist
2014/2015 RESULTS
1 Million SF Category: One Nationwide Plaza (Managed by: Nationwide Corporate Real Estate)

Regional winner and International finalist

100,000 - 249,999 SF Category: Town Center (Managed by: Continental Realty)

Regional winner and International finalist
2013/2014 RESULTS
Corporate Facility Category: One & Three Nationwide Plazas (Managed by: Nationwide Corporate Real Estate)

Regional winner and International finalist
2012/2013 RESULTS
Corporate Facility Category: One & Three Nationwide Plazas (Managed by: Nationwide Corporate Real Estate)

Regional winner and International finalist