Local RPA and FMA Class Schedule

BOMI Class: October Training: Design, Operation and Maintenance of Building Systems II
Looking for the full classroom experience from home? Collaborative Virtual Learning is the delivery method for you! This unique delivery method places the emphasis on the knowledge you can learn through interaction with industry peers and an expert instructor in addition to BOMI coursebook content.
Design, Operation, and Maintenance of Building Systems II
Oct. 9 – Nov. 1, 2023
Mondays and Wednesdays
6-9 p.m. ET

Looking to Grow Your Facility Management Career?
Look no further! BOMI has the courses you need to succeed for property and facilities management. Summer is the perfect time to take your next online, self-paced course with our Summer Sale! Use code HAPPY100 and checkout and save $100 on your course. Offer expires July 31, 2023. Register Here.

Discover the CMCP Difference
The only certification of its kind for early-career professionals, the Certified Manager of Commercial Properties (CMCP) instantly validates an individual's ability to navigate the key responsibilities of property management. For those just starting out in their careers, the CMCP can open the door to new opportunities for career growth and advancement. For employers, the CMCP is shorthand for an employee or job candidate with the knowledge to succeed in a property management role — and it also can be a professional development tool for existing employees in need of upskilling or reskilling. Apply Now.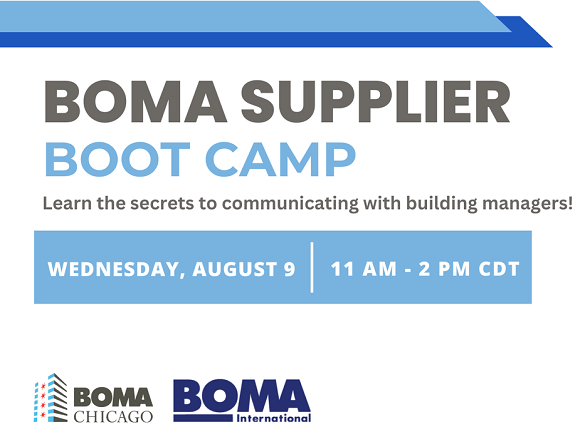 BOMA Supplier Bootcamp — Learn the Secrets to Communicating with Building Managers!
BOMA International
Calling all BOMA Suppliers! Attend the BOMA Supplier Boot Camp on Wednesday, August 9 from 11 AM to 2 PM CDT! You will learn from two renowned building professionals about how to better serve your customers. Register today
BOMA International
Taking a BOMI course will increase your company's cost savings, efficiency, client satisfaction, safety, and employee retention. With 400,000+ courses delivered, and 43,000+ credentials earned, it's time to join the thousands of property and facility management professionals who trust BOMI for their career development. Learn more here.
Real Estate Investment and Finance
Required RPA Course | Elective FMA Course
October 16, 18, 23, 25, 30 and November 1 from 4PM to 7PM Central
Instructed by Susan Hammer, Hammer4 Real Estate Services
Hybrid Class (In-Person and Virtually)
All classes will be recorded. If you miss a class, you can watch the recording.
$1,290 for Students ($1,140 if you transfer rebate to student)
Contact Jaclynne Madden at jmadden@bomachicago.org to register
REGISTER: https://bomachicagogzcms.growthzoneapp.com/ap/Events/Register/Dr6n987r?mode=Attendee
THE ART OF EMOTIONAL INTELLIGENCE SEMINAR
Tuesday, Jan. 30, 2024
2 to 3:30 PM Eastern
Registration: Regular $59 – Free with Promo Code "BOMA"
Emotional intelligence is not a passive skill. It is about taking action in a way that supports empathy, compassion, and understanding of others. In this training, participants will learn how to become more aware of their emotions, how to use better timing in their interactions, and how to communicate in an emotionally intelligent way. We all need to explore emotional intelligence in our daily lives to improve relationships, establish trust, and keep ourselves smiling.
This webinar is facilitated by Stevie Dawn Carter, PhD.